Tatkal Passport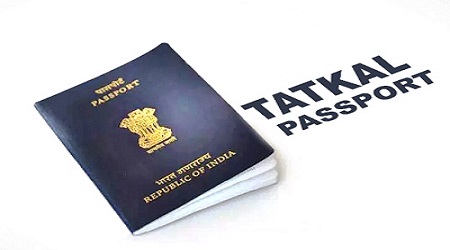 APPLY NEW OR RENEWAL OF PASSPORT IN TATKAL CATEGORY:
1. What is Tatkal Passport?
Tatkal scheme allows one to skip the otherwise time-consuming passport application process. In addition, it presents a simpler way to get a passport, alongside a faster processing time, thereby providing you with a passport within a few days.
2. Who Is Eligible for Tatkal Passport?
The Regional Passport Office determines whether to issue a tatkal passport. Remember that not every applicant is eligible to apply under the tatkal scheme. Merely Paying Extra Fees does not entiltles one for this. Here are the following categories (Not Eligibgle for Tatkaal).
Applicants Born to Indian Parents in a Foreign Country (Indian Descent)

Individuals Deported to India From Other Countries

A Person Repatriated From a Different Country

Indian Residents Who Are Granted Citizenship Based on Registration or Naturalisation

Residents of Nagaland and Jammu and Kashmir

Indian Citizens of Naga Origin but Residing Outside Nagaland

Individuals Who Wish to Renew Short Validity Passports

Applicants With a Major Change in Their Name

Minor Residents of Nagaland

Applicants Seeking to Re-issue Their Passports After It Was Lost or Stolen

Individuals Changed in Appearance or Sex.
3. What Is the Goverenment Procedure to Apply for Tatkal Passport Online?
To apply yourself for a tatkal passport? Follow these simple steps:
Register on the

official website

of Passport Seva.

Once you create an account on the portal, log in with your user ID and password.

Select one of these two options – 'Fresh/Re-issue'.

Choose "Tatkal" as the scheme type.

Download the application form and fill it in with relevant details, such as your name, employment type, family details etc.

Submit the form online and complete the application procedure by making an online payment.

Take a printout of the receipt and book an appointment at your nearest Passport Seva Kendra (PSK).
4. What are the Tatkal Passport Fees?
The table below indicates the tatkal passport charges along with the size of the booklet. Take a look For a Fresh Application of Passport
| | |
| --- | --- |
| Age Limit | Tatkal Passport Price |
| Below 15 years (36 pages) | ₹3,000 |
| 15 to 18 years (36 pages and 10 years validity) | ₹3,500 |
| 15 to 18 years (60 pages and 10 years validity) | ₹4,000 |
| 18 years and above (36 pages) | ₹3,500 |
| 18 years and above (60 pages) | ₹4,000 |
You can apply for Tatkal Passport or called Out of Turn Issue. Tatkal helps to get Passport issed in 3 to 7 days approximately. Tatkal needs extra documents from your side. It is not on merely Payment Basis. Police Inquiry may be done after the Passport is despatched or prior to issue for the Passport.
5. Document Requirements:
ANY 3 Documents from the below list on Your Name and Address:
1. Aadhar Card/e Aadhar Card on Present Address.
2. Voter ID/EPIC on Present Address.
3. Service Photo Identity Card issued by State/Central Government, Public Sector Undertakings, local bodies or Public Limited Companies.
4. SC/ST/ OBC Certificate.
5. Arms License.
6. Pension Documents such as ex-servicemen's Pension Book/Pension Payment order, ex-servicemen's Widow or Dependent Certificates, Old Age Pension Order, Widow Pension Order
7. PAN Card on Applicant Name.
8. Self-Passport/Last Passport (unrevoked and undamaged).
9. Bank or Kisan or Post Office Passbook with Photo Pasted and Attested by Bank and Latest Updated.
10. Student Photo Identity Cards issued by Government Recognised Educational Institutions in respect of full time courses.
11. Driving License on the same address and on the same Name and in same Jurisdiction.
12. Birth Certificates issued under the RBD Act.
13. Rations Card with Photo Pasted and Attested.
THERE SHOULD NOT BE ANY MISMATCH IN SPELLING OF NAME and DATE OF BIRTH IN ALL DOCUMENTS.
(B) Matriculation 10th Certificate for ECNR.
(C) Utility Bill on Current Address on your name (Gas/Electricity/Telephone/Mobile Post Paid Bill/Water Bill. (Any One)
(D) Wife/Husband Aadhar (For Married Applicants).
To check the Requirements for Tatkal Passport/Out of Turn Basis, click on the link below to know more:
https://www.passportindia.gov.in/AppOnlineProject/popuponline/AttachmentAdvisorSub?subDocID=7003&minorFlag=1
1. E-MAIL US ON info@khannaassociates.com
or You Can Send the Documents by WHATS-APP WITH CLEAR IMAGE OF THE DOCUMENTS AT 9015-698-698
DISCLAIMER: We Only Helps in Preparing the Documents for correct Verification at Passport Seva Kender and Will Never Promise for Issue of Passport as it will be the sole discretion of Passport Authority to Issue or Reissue the Passport.
Fees and Charges :
Rs 3500 Fee (Rs 1500 to be Paid online and Rs 2000 at Passport Seva Kender in Cash) + Rs 1000 Our Service Charge = Rs 4500
Contact Number:
Call Us at : 9015-698-698, 9015-354-354
NOTE : POLICE VERIFICATION WILL BE COMPLETED FOR 5 YEARS OF STAY (INCLUSIVE OF PRESENT ADDRESS AND PAST ADDRESS).